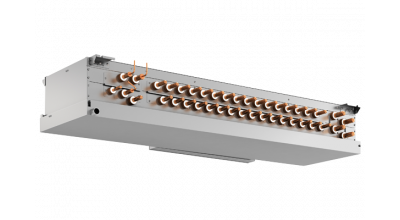 HBC Controllers
Set to rival traditional heating and cooling, the HVRF System delivers optimum comfort and efficiency, using an innovative combination of unique 2-pipe technology and water to provide simultaneous heating and cooling with heat recovery.
Available in: 8 Connections, 16 Connections
View Product
Vertical HBC Controller
City Multi Hybrid VRF is an energy-efficient 2-pipe heat recovery VRF system, whereby the outdoor unit is connected to a Hybrid Branch Controller (HBC) and water pipework is used between the indoor unit & HBC. With the refrigerant layout reduced, this revolutionary design minimises the need for leak detection and provides simultaneous heating and cooling to the occupied space.
View Product