R32 Hybrid VRF delivers energy efficient comfort for Acticare staff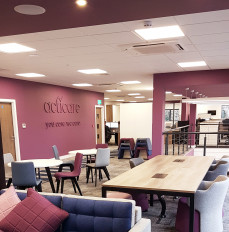 Nursing and care home supplier Acticare is now able to provide heating, comfort cooling, and fresh air ventilation to employees with the installation of modern, innovative air conditioning from Mitsubishi Electric.
The new-build, two-floor facility in Hereford comprises open-plan spaces, satellite offices and meeting rooms, and the company was looking for a system which delivered a fresh, temperate working environment for its office staff to help maximise workplace productivity, comfort and wellbeing.
The solution is R32 Hybrid VRF air conditioning working in tandem with a Lossnay heat recovery ventilation system, to deliver perfect levels of comfort and fresh air in one of the most energy efficient ways possible.
The Hybrid VRF system differs from traditional VRF as it uses water throughout the majority of its pipework instead of refrigerant but is still able to simultaneously heat and cool different rooms. This use of water removes the need for any leak detection in occupied spaces and helps lower annual maintenance costs. Hybrid VRF offers high operational efficiency while minimising the global warming potential (GWP) of the system, meeting Acticare's high environmental standards.
The company worked with EMS Ltd to design and install the new system. EMS are a Business Solutions Partner with Mitsubishi Electric and have worked with the manufacturer for many years.
"We like what the R32 Hybrid VRF achieves, in particular the enhanced occupier comfort of using water instead of refrigerant in the conditioned space," explained Alan Meredith, Director at EMS, "There's also the environmental benefits of using the lower GWP R32 refrigerant and keeping this to the minimum needed by using water throughout the majority of the building."
The use of R32 was also important for Phil Boyman, Director at Acticare. He said: "One of the main considerations when choosing an air conditioning system was how well it would future-proof the building against changing environmental standards. The Hybrid VRF units were able to do so by meeting F-Gas regulations."
Mitsubishi Electric's Lossnay heat recovery ventilation units work alongside the Hybrid VRF systems, to bring clean, fresh air into the building. The Lossnay units do this while simultaneously extracting stale air, and recovering valuable heat energy to maximise efficiency.
For more information, click here
PR Contact
Nick Ringrow
Brands2Life
Mitsubishielectric@brands2life.com
0207 592 1200